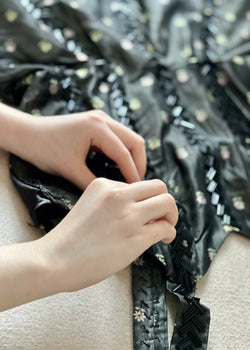 The Reclaimery
Formal Dress Renew
Do you have a formal dress that you no longer wear but previously loved?
Our Reclaimers can re-imagine your dress and transform it into a unique bespoke outfit and a one-of-a-kind piece. You are also extending the life of your garments.
Change lives by renewing your wardrobe.
This package is perfect way to:
Renew an existing Night Dress that you no longer wear.
Give a new look making it as desirable as new.
Make your dress fit you perfectly to flatter your natural body shape.
Help people through our life-changing training programme
Help the planet by extending the life of your garment and avoiding waste.
Put people and planet first.
We will provide:
A 45 minutes personal consultation to discuss together how to redesign your formal dress catering to your needs.
Up to 2 hours of tailoring and/ or renewing services to create a unique spectacular piece for you.