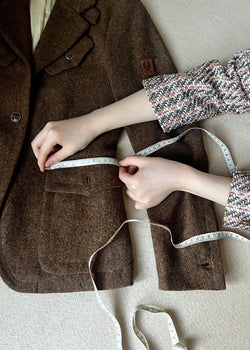 The Reclaimery
Alterations Package
Do your clothes fit as well as you would like them too?
We can tailor your clothes to make them fit you perfectly, elevating your personal style, making you feel more comfortable and enjoying your clothes.
By using this service, you will be extending the lives of your garments and making them look even more fabulous, which minimises the impact of your wardrobe on the environment.
Change lives by renewing your wardrobe.
This package is perfect way to:
Make your clothes fit you perfectly to flatter your natural body shape.
Alter and/ or repair existing garments.
Give a new look making it as desirable as new.
Help people through our life-changing training programme.
Help the planet by extending the life of your garment and avoiding waste.
Put people and planet first.
We will provide:
A personal 20 minutes consultation to discuss together how to alter and repair your clothing to cater to your needs.
Up to 3 hours of alteration and repair services for six garments.
We will ensure that the time is used efficiently to produce the best final outcome for you.
The process is simple. Send your pieces to us by post and our talented team will work their magic and send your altered garments back to your home.