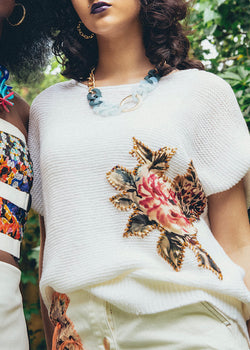 The Reclaimery
Renew with embroidery
Renew or Refresh your item with a beautiful handmade and sustainable embroidery patch made from premium excess fabric. 
All our embroidery patches are created by our team of Reclaimers, who are individuals from disadvantaged communities, here in London.
Change lives by renewing your wardrobe.
This package is the perfect way to:
Renew existing clothing that you no longer wear.
Give a new look making it as desirable as new.
Transform your piece and make it one-of-a-kind.
Help people through our life-changing training programme.
Help the planet by extending the life of your garment and avoiding waste.
Put people and planet first.
We will provide:
A 30 minutes personal consultation to discuss together what is the best embroidery for your garment.
Any questions? Please do get in touch at hi@thereclaimery.com.