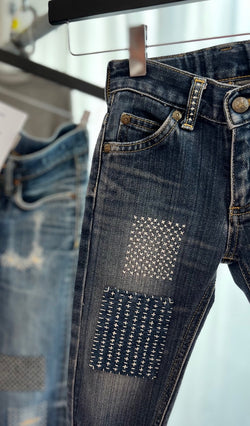 The Reclaimery
Jeans Renew
Do you have a pair of jeans you no longer wear that you want to renew or make a one-of-a-kind piece?
Don't let your old jeans go to waste, send them to us to repurpose them into something new!
Our Reclaimers can re-imagine your Jeans so that you can continue to wear it. We have lots of different options for changing the look of your coat, including hand embroidery, hand painting, changing the style and adding new details, together we will discuss which is the most appropriate for you.
Change lives by renewing your wardrobe.
This package is perfect way to:
Renew an existing pair of jeans that you no longer wear.
Give them a new look making it as desirable as new.
Make your jeans fit you perfectly to flatter your natural body shape.
Help people through our life-changing training programme
Help the planet by extending the life of your garment and avoiding waste.
Put people and planet first.
We will provide:
A personal consultation to discuss together how to redesign your jeans catering to your needs.
Up to 1 hours of tailoring and/ or renewing services to create a unique spectacular piece for you.